Climax Molybdenum Company, a subsidiary of Freeport-McMoRan, sustainability programs are consistent with commitments set forth in company-wide policies defined by Freeport-McMoRan.
Sustainability and Our Business
We have noted the continuous improvement and increasing maturity in our sustainability-focused, global risk management processes, particularly over the last eight years of third-party assurance. While we will continue to implement the ICMM Sustainable Development Framework, we are focusing our sustainability efforts on two key areas that provide a solid foundation for achieving our long-term business objectives.
First, we must maintain acceptance to operate through shared value at the local level in order to reinvest in our existing properties, plus new ventures, thereby increasing the production of metals needed for a healthy and prosperous world.
We also understand that our sustainability performance is critical to meeting society's, including our customers', responsible sourcing objectives so that we can place our products into the global marketplace today and into the future.
We will maintain our efforts to continuously improve all elements of our sustainability performance and are eager to engage with stakeholders on this continued journey.
Principles of Business Conduct In February 2017, we launched the updated Freeport-McMoRan Principles of Business Conduct (PBC), which highlight our core values of Safety, Respect, Integrity, Excellence and Commitment, and help guide how we do business, from top-level management to entry-level employees. The PBC sets forth a variety of business principles, from promoting a safe workplace to complying with laws and avoiding conflicts of interest to developing positive relationships with local communities. Freeport-McMoRan and its affiliates have established multiple mechanisms for employees and others to report concerns regarding potential violations of the PBC. One of the primary mechanisms is the Freeport-McMoRan Compliance Line, a phone system managed by an independent third party that allows for anonymous reporting. In addition, the company offers a web-based reporting system, also operated by a third party, along with an option for direct email to our Compliance Department. These accessible channels complement our long-established community and human rights grievance systems. By providing multiple reporting mechanisms, including anonymous communications, our workforce is encouraged to Speak Up if something violates, or could possibly violate, the PBC.
In addition, the Freeport-McMoRan Supplier Code of Conduct sets forth our expectations for our supply chain partners in areas such as safety, respect for human rights, anti-corruption, community and environment. These policies, along with external standards and initiatives, form the overall framework that guides our sustainability programs. Supporting this framework are internal governance and management systems that detail how we operate.
Freeport-McMoRan has a long history of robust sustainability programs and is continuously striving to embrace evolving stakeholder expectations and implement best practices. This year's report marks our 20th year of reporting on our sustainability progress. For more information, please see our 2021 Annual Report on Sustainability:
2021 SUSTAINABILITY REPORTS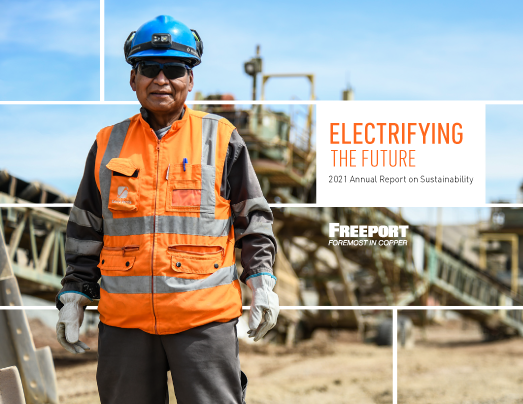 Annual Report On Sustainability

ESG Performance Trend Data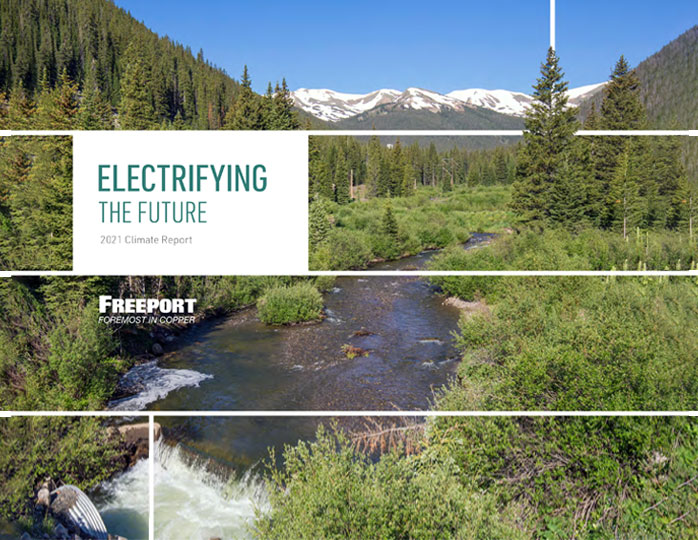 Climate Report

ESG Investor Presentation
For more information on our sustainable development program visit our website fcx.com/sustainability.
PHOTO DESCRIPTION: Climax mine Ten Mile tailings facility