Safety is integral to all Freeport-McMoRan operations and is the responsibility of all employees and managed by a formal structure starting with our Health and Safety Policy. Our philosophy of Safe Production is demonstrated by the integration of health and safety practices in all aspects of our operational activities. Our Board of Directors requires comprehensive audits to assure the safety management system is effective and resources are applied to achieve the company's policy objectives.
Our Occupational Health and Safety Management System (OHSMS) is the framework under which we prioritize and manage risk, as well as address compliance obligations. In late 2016, Freeport-McMoRan received corporate group certification to the internationally recognized Occupational Health and Safety Assessment (OHSAS) 18001 standard. The certification requires third-party registrar site-level verification that we operate in a manner consistent with OHSAS and with a goal to prevent fatalities and reduce incidents. Maintaining the certification process entails annual site audits conducted by either our corporate OHSMS team or a third-party registrar. In 2017, a total of 23 combined systems audits were conducted.
Our health and safety performance and associated reporting encompasses our direct employees as well as contractors. The Freeport-McMoRan Contractor Health and Safety Manual defines the minimum expectations and requirements for contractors working at our operations. As with our employees, site-specific health and safety training is conducted with contractors and tailored to task-specific hazards identified and critical control implementation.
We measure our safety performance through established benchmarks, including our company-wide TRIR. In 2017, our TRIR (including contractors) was 0.76 per 200,000 man-hours worked, missing our 0.63 target. We worked 117.5 million hours in 2017 compared to 153.1 million hours in the prior year, and we recorded a total of 443 reportable injuries in 2017 compared to 492 in 2016.

Because of Freeport-McMoRan's longstanding commitment to safety, the company was in a unique position to assist the National Mining Association in developing the new safety certification system for the mining industry. The framework emphasizes accident prevention anchored in organizational leadership, management and assurance. The CORE safety framework guidelines are publicly available as a resource for mining companies' safety management programs. Freeport-McMoRan proudly achieved CORESafety Certification in 2017.
Emergency Response
Emergency preparedness and response is a fundamental component of all Freeport-McMoRan activities. Through our Crisis Management Program and Sustainable Development Risk Register program, operations maintain plans, which incorporate procedures for preventing and responding to incidents that could cause severe or catastrophic harm to human health and the environment. We coordinate with local governments to prepare a range of emergency response scenarios and conduct mock drills to plan for the protection of our workers, the community and the environment.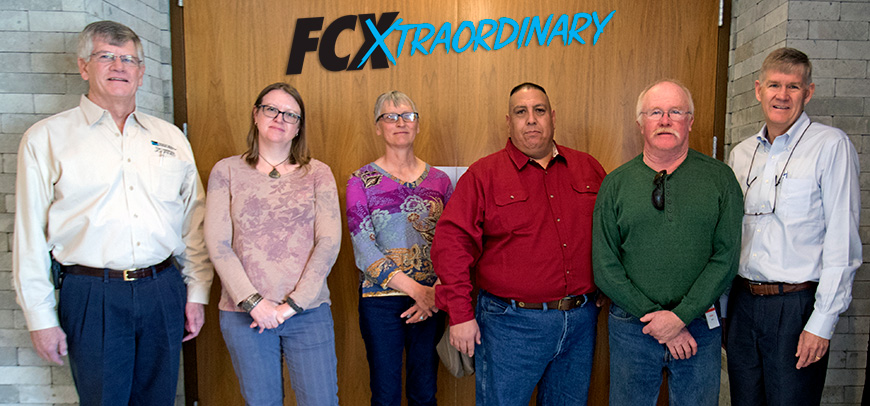 FCXtraordinary highlights the dedication of our workforce to Safe Production and collaboration. Members of the Climax Health and Safety Team were recognized by Mike Kendrick, President-Climax Moly (far right) after taking extraordinary measures to ensure a contract logistics driver received full assistance after suffering from acute mountain sickness.
Occupational Health
Freeport-McMoRan operations maintain comprehensive occupational health programs to assess the risk of exposure to occupational health hazards and identify controls for those risks. We have expanded our corporate industrial hygiene team to provide better strategic guidance and support. Our Field Guide for Occupational Health and Industrial Hygiene defines occupational exposure limits, standards and practices that apply globally.
Freeport-McMoRan continued the expansion of medical monitoring procedures in 2017 to ensure that employees are fit for duty, to look for early indications of occupational health impairment and to provide opportunities for early intervention. We continued to expand our fatality prevention program to review exposures to carcinogens and other significant health hazards in addition to traditional safety hazards. These efforts are expected to lead to a stronger focus on critical controls related to dust controls, ventilation systems and chemical process monitoring. Thirty-eight occupational illness cases were reported at our operations during 2017.
Award-Winning Health & Safety Initiatives
Climax Molybdenum Henderson Operations was selected to receive the 2018 Award for Outstanding Safety Performance by the Colorado Mining Association (CMA) and the Colorado Division of Reclamation, Mining and Safety (DRMS). This award recognizes the Henderson Operation's outstanding achievement of lowest TRIR, 0.56 based on the MSHA quarterly reporting criteria. This award was presented at the 2019 CMA/SME Annual Conference in Denver, Colorado.
The Total Recordable Incident Rate (TRIR) is based on the number of MSHA reportable cases of workplace injuries or illnesses that result in a loss of consciousness, medical treatment, days away from work, or days in work restriction.
Climax Molybdenum Stowmarket Ferromolybdenum Plant in the United Kingdom is one of the world's premier production and conversion facilities for ferromolybdenum. Climax Molybdenum Stowmarket has been awarded its fifth consecutive RoSPA Gold Medal Award for excellence in safety performance, management systems and culture.
The Royal Society for the Prevention of Accidents, or RoSPA, grants internationally recognized safety awards based on the organization's individual occupational health and safety performance assessed against the RoSPA judging criteria. The award recognized Stowmarket for demonstrating the essential elements of health and safety management systems, implementing controls for risks, having no fatal or major injuries and maintaining a stable (or achieving a reduction) in the accident rate.
Climax Molybdenum Fort Madison Plant was the recipient of the 2018 Fort Madison Chamber of Commerce - Manufacturer of The Year Award. Presenters cited Climax's superior commitment to the safety, health and wellness of their workforce as well as environmental stewardship, and commitment to community as tremendous assets to Fort Madison. In addition, in 2018, the Fort Madison Plant had a Total Recordable Incidence Rate of 0.54. This is the lowest TRIR at Fort Madison since 2011. Employees attributed this superior safety success to better job pre-planning, looking out for one another, and a culture that promotes "Home Safe, Every Day" above all other values.
Climax Operations Mine Rescue Team received the Distinguished Service Award in 2018 from the Lake County Sheriff's Office for their efforts and assistance in rescuing two members of the public caught in an avalanche on Mt. Arkansas.
PHOTO DESCRIPTION: (top) Water monitoring near the Climax mine
Find out more about our long term sustainability commitments to the Colorado communities at ClimaxMoInCo.com.